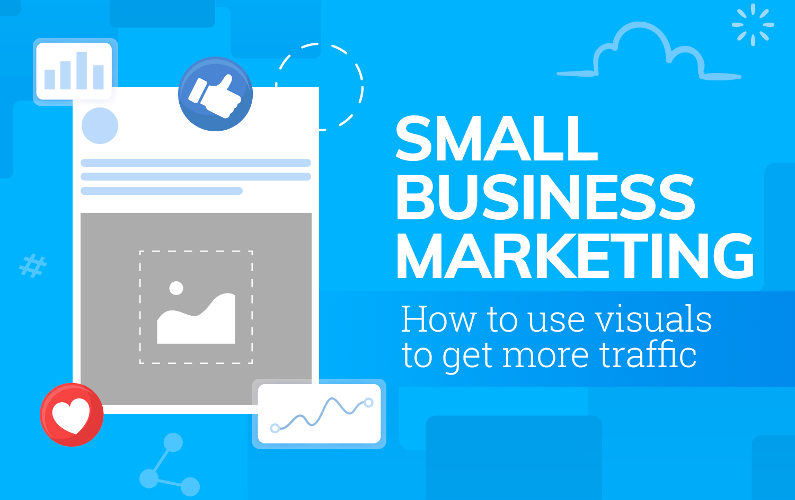 The visual marketing materials you use are the first impression potential customers have of your business. And like it or not, first impressions are often the last impressions..
Your brand needs a pretty face, right from its inception. Even if you have an amazing product or service, without organizing your marketing strategy and solid visuals, your startup can burn out before blazing up. If people don't like what they see, why would they buy it?
Why is Visual Marketing Important?
This is the digital marketing age, and visuals are everything. So, why is visual marketing important? Attention spans are shorter and the competition for our dwindling attention is stiffer than ever, according to a study featured on Venture Beat.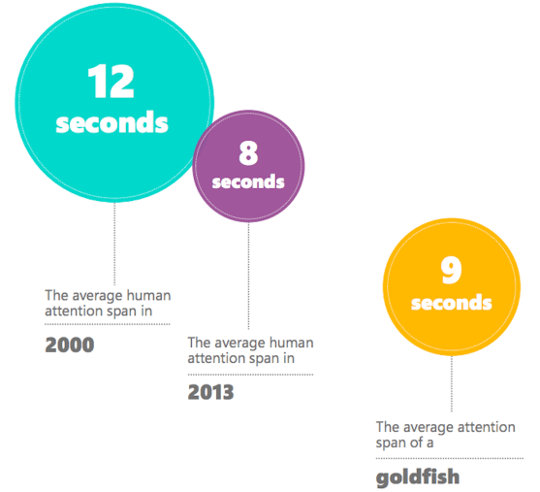 How can you stand out from the crowd and grow your startup? An organized marketing strategy will engage your target audience, and in turn, grow your business. Easier said than done? Don't worry, we have got you covered.
Here are five simple yet effective strategies to incorporate visuals in your marketing strategy and get your business promotion and branding on the right track.
In this article, we'll refer to PosterMyWall, a digital graphic design tool which makes content creation and distribution a breeze with the help of templates, a drag and drop editor and extensive sharing, scheduling and collaboration tools.
1. Know Your Brand
Before you even think about sharing what you are selling, ask yourself why you are selling it. Why are you selling organic dog food? Sure, maybe your product is clinically proven to be 20% healthier than commercial pet food. But why is that important? Moreover, who is it important to? If you are providing a solution to a problem, don't just sell your product, sell the answer to the problem.
In this case, instead of selling organic dog food, you are selling the belief that our furry friends deserve to eat as good and healthy as their owners. This is clearly an important point for your target audience. As a brand, it's important to make clear what you stand for as that is what will attract your audience. By starting with your why, you establish the beliefs that will shape your brand identity.
The next step is to solidify these brand values and identity into imagery and visual marketing graphics for your logo design, mission statement, and marketing materials.
You can make a professional logo without paying a graphic designer, saving you costs and the back and forth of designing and reviewing as is the case with design projects. PosterMyWall offers logo templates for all kinds of businesses, which can be customized to make your unique logo. The best part? You have complete creative freedom, and you get exactly what you're looking for.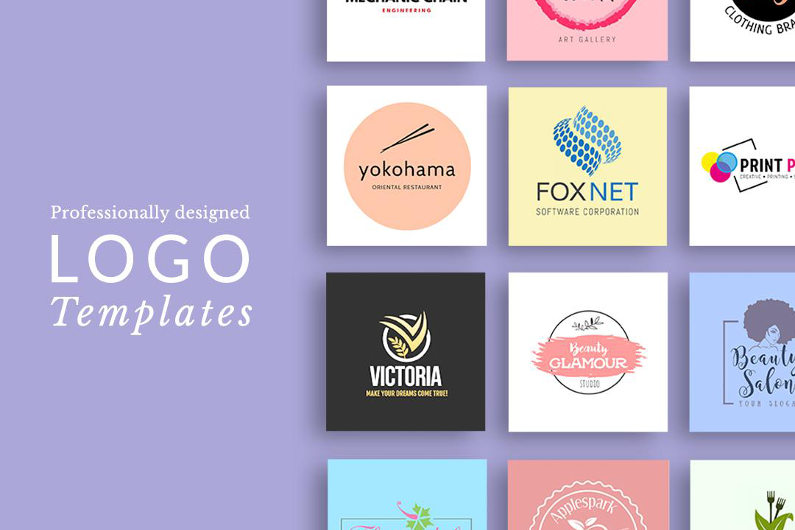 But before you do that, it's vital to know who you are communicating to, in other words: who is your target audience?
2. Know Your Target Audience And Where They Hang Out
It's time to crystallize who your product or service is for.
For example, one of the best ways to do this is to segment your market into buyer personas. Examine your target customers and dissect crucial details of their life. Answer specific questions like:
How old are they? Do they live in the city, or in the country? Are they single, or settled down? How much money do they make annually? What are they passionate about? Where do they hang out?
How to Define Your Target Customer in Your Visual Marketing
First, refine your message to best resonate with your target customer. Put your product or service in front of their eyes in the easiest, most relatable way possible.
Say you own an athletic apparel brand that specializes in yoga leggings. Where are your yogis hanging out? Chances are, they are spending a lot of time on YouTube with their favorite instructor. Consider starting a YouTube channel, or focusing your startup advertising campaign on YouTube video ads.
If the business is local, branded visuals help grab the attention of the locals. With PosterMyWall's free flyer maker, you're able to completely customize small business flyers with your branding colors, imagery, fonts and more. Once the flyer accurately depicts your brand and promotion, think about how you need to put it across your target audience.
You can post these eye-catching flyers at local establishments where your target market hangs out, like local yoga studios and fitness clubs for a business selling yoga leggings. Take it a step further and put your brand in your future customer's pocket with flyers with tear-off tabs. This is a great way to cement your brand into the minds of prospective customers and make it easy for them to find you.
If you're a personal trainer, using a flyer with tear-off tabs, like the one below means your potential customers are a lot more likely to get back to you if they have a contact slip they can take home.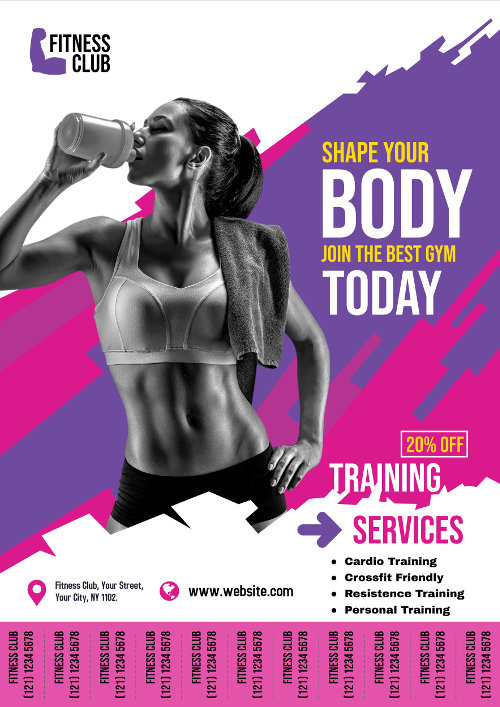 But don't stop there. Repurpose these free flyers into social media graphics. You can resize them to multiple dimensions for free, schedule your posts and auto-publish from one tab with PosterMyWall.
Look at you, you've nailed entrepreneurship by working smarter, not harder.
3. Create Hype On Social Media
Social media is a powerful tool because people love to share visual media.
In fact, visual content is shared on social media 40 times more than any other content, according to HubSpot.
This is an amazing opportunity to use engaging visual content to build your brand. How can you use social media as a tool to promote your business?
Here's an idea, post teaser images of new products prior to their launch date. Create custom social media graphics (like the one below) that match your branding and put the spotlight on your new product. Additionally, you can market older products into eye-catching graphics and schedule them into your posting rotation. No matter your product, there's a social media graphic that fits it perfectly.
Check out the above template here: https://www.postermywall.com/index.php/art/template/3e91b1f3f0a4fb46da7be2d5dc15679b/floral-violet-product-ad-template-design
Social media offers your company the opportunity to combine your brand's unique narrative with visual content to build an engaged, loyal audience.
Post Visual Content Consistently
And the best way to see steady growth is to post consistently on Facebook, Instagram, Twitter and any other platforms relative to your target audience.
PosterMyWall makes it easy and affordable for you to use the same design graphics for multiple platforms. Simply resize graphics to the dimensions of each one of your social channels and schedule your posts to auto-publish. Not only will resizing save you precious time, but it creates a consistent and fluid marketing campaign that people will instantly recognize.
As a small business owner, time is one luxury you don't have. With PosterMyWall's Premium and Premium Plus plans, you're able to easily create and schedule social media posts. Rather than taking time every day to post on all your channels, let the creative juices flow and schedule all of your posts for the week in one sitting.
Define your Look on Instagram
Instagram began as an app to share an "instant" picture taken from your camera phone. Now, it's so much more. Brands are using Instagram to not only create awareness, but sell their products and services. Take a look at Brit and Co, a digital media company that provides solutions to women on a wide range of problems, with the help of striking visuals. Their page dabbles in pinks and yellows in a way their audience can instantly recognize.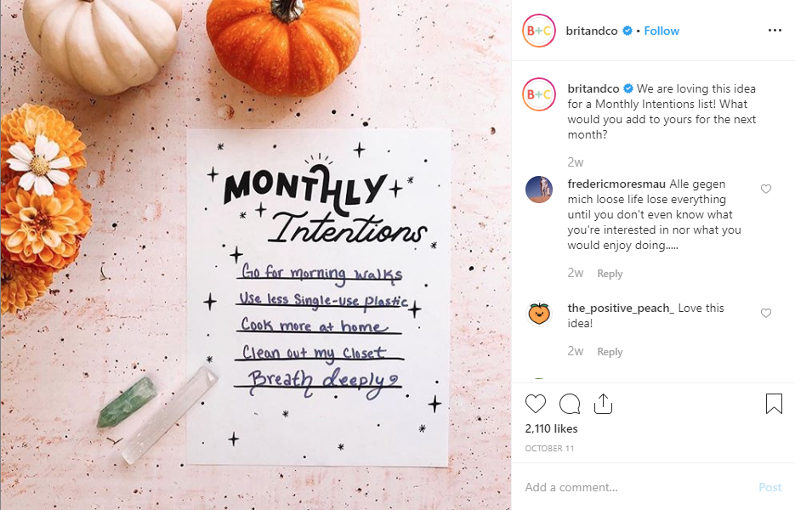 How can strong Instagram visuals help their brand?
Brit and Co have their own color palette and aesthetic, which makes designing and working with visuals incredibly easy, while offering a healthy variety in design.
Their posts are designed to attract their target audience, which in their case are young women, looking to take care of themselves better.
The page delivers an excellent first impression of a brand that knows their stuff, while also being classy.
We haven't really talked about the full potential of Instagram without Instagram Stories. To get a brief idea, 500 million users check Instagram Stories every day, according to Instagram's internal data. These numbers are telling. Especially for businesses, which comprise 1/3 of the most viewed stories on Instagram.
Design your Instagram Stories, and with the help of PosterMyWall templates, design should be the least of your worries. Instagram Stories are all about interactions, allowing brands to be a little more casual in their approach, and also talk to customers. You want to feature posts of satisfied customers, make announcements and ask questions.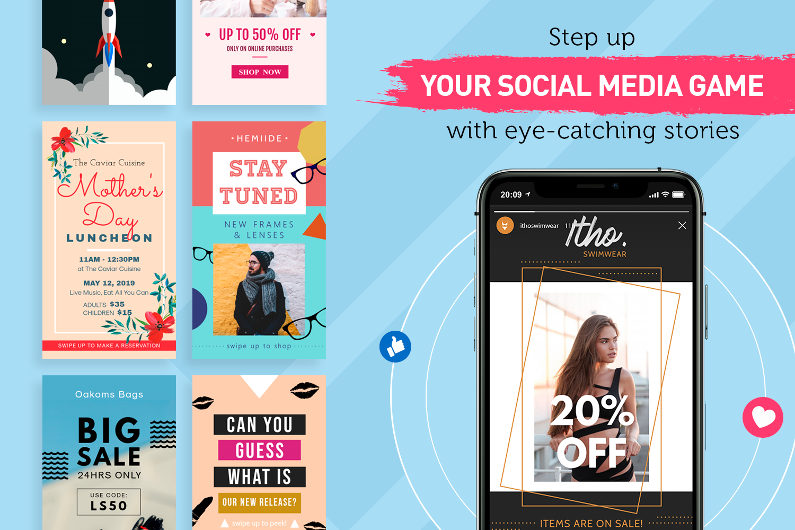 4. Get Up To Speed On Video Marketing
Video marketing should be a vital organ of your startup marketing campaign. Why? Because people straight-up love videos. Videos are so much in vogue that according to a study by Cisco, online videos will make up an estimate of 80% of all internet consumer traffic by 2020.
Remember how Facebook started as a place to share musings with a short status update? What's dominating your feed now?
Instagram Loves Video Content
Instagram is all about exciting visuals. These include viral content, and you can't have viral content without video.
There's something about videos that stick, and even mutate. When it comes to mapping out your small business marketing strategy, you'll want to get in on the action. Don't know the first thing about video marketing and think it'll cost you weeks of sweat equity to figure it out? Think again.
Creating Video Content
Making videos is much easier than you think. Instead of creating videos from scratch, convert posters into videos with PosterMyWall. Consider a new restaurant opening up in a trendy neighborhood. Elevate the excitement and hype by converting the menu image into a video with one click, and let the food come to life. Imagine steam rising from a hot bowl of soup, or the metallic glint of a fork as it glides through the shiny icing of a velvety cake. Turn static images into motion to get your viewers' mouths watering, and ultimately, lining up to get a table at your new restaurant.
You can quickly create custom videos from scratch with PosterMyWall's free online editor or customize one of thousands of professionally designed video templates.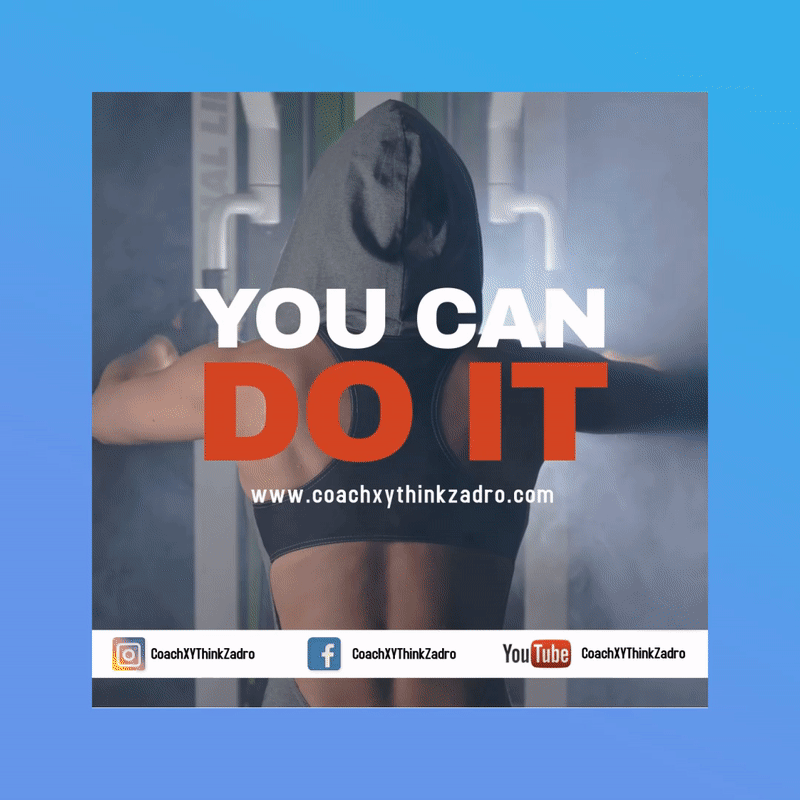 Simply personalize a template of your choice, add details relevant to your brand, download and go to town sharing it on all your channels.
5. Set Up For The Long Haul
In order to go the distance, focus on building quality relationships with your customers. Instead of one-time transactions that don't foster long-term engagement, incentivize your customers to keep coming back for more.
How can you put this concept into action?
Engage Customers
If a new customer purchases an item from your company, instead of simply thanking them for their purchase, invite them to join a customer rewards program and include a discount voucher or cash reward toward their next purchase.
Offer Customer Rewards
Turn their cart into a revolving door by offering them rewards for their loyalty to your company. PosterMyWall makes it easy for you to promote return business, because you can create branded discount vouchers from professionally designed gift certificate templates.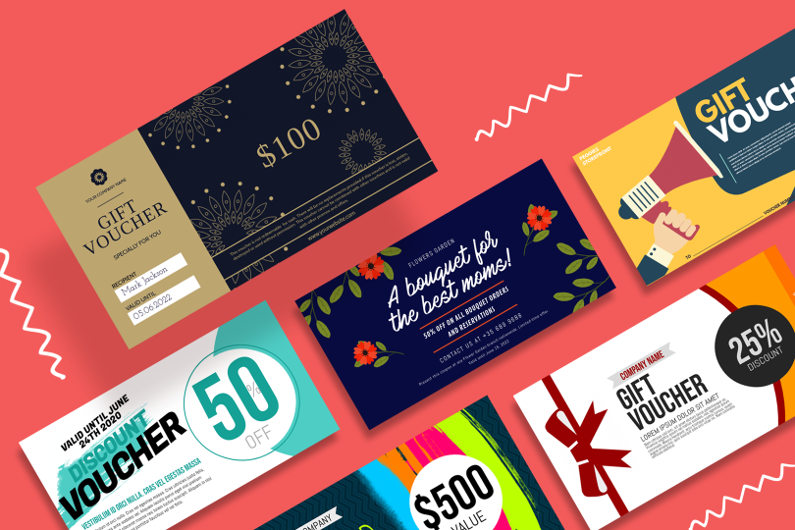 Ready to kick start your startup?
There you go! You are now all set to promote your start-up effectively, affordably and quickly with attention grabbing visuals. Visual marketing is an essential strategy to build your brand and engage your target audience.
In the first stages of marketing your startup, it's natural to feel overwhelmed about content creation. That's why it helps to have an extensive resource for creative inspiration. At PosterMyWall, thousands of fully customizable and free flyer design templates are at your fingertips.
The first step to growing your small business is to refine your marketing strategy and create evergreen visual content that engages your audience. Get started now and take your start-up to new heights with PosterMyWall.